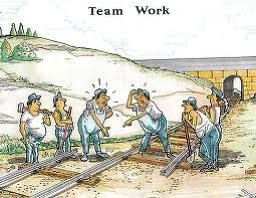 Can you tell me which people tell you "I don't need anyone" if you found that kind of people, please give me my address post :) maybe it can help.
In our life, we can't avoid
teamwork
. Teamwork is a great thing to make everything more efficient, faster, and solid. Teamwork make things more beautiful. There are many things in this world that need a teamwork so much, we can take the example : A Soccer Team, Football team, Boy Band, Choir, Organization, and many else.
Before that let's watch this video bellow, this is Voca People, a group of singer who have a very good
teamwork
in it, they use their pure voice only to produce a nice song, no music tools involved.
That's amazing, that is a word that is in your mind now, isn't it? yes me too, when I watch this video, I'm so amazed by them, how could they do that? the answer is "TEAMWORK" so what is inside teamwork that I want to share about ?
Teamwork is a key to achieve a goal
Yes, it is true that teamwork is a key, in a team we have a same vision, mission, and the most important thing is in a team everybody must working as a
teamwork
. It's like a car, if a car doesn't have a tire, or brake, or wheel, we can't reach the place we want to go. So We must work together.
In Teamwork, there is family
In a teamwork, we will achieve a goal and more than that people in the teamwork will become a great family and a great friend. Everybody will understand each other, everybody will know their role, eveybody will know their part in the job or in other thing that using a
teamwork
.
Teamwork make us stronger
In a teamwork, two is better than one, three is better than two, four is better than three, and so on. In Teamwork there is a
strength
, because everybody is motivating other, when someone getting tired or sad, or
depressed
, other will give him a strength, to comfort him and make him stronger. A team with a great teamwork will not break easily. Because they have a great
strength
.
Teamwork make us more beautiful
Do you ever mention, if we just have one hair on our head? what do you think? is it beautiful or pretty for a women ? (sorry, there is no one that I discredited, just an example) maybe it is a silly example, but the teamwork indeed make things more beautiful, we can see the voca people, how beautiful is their singing :)
In a great Teamwork there is always have a great winning
Yes, a great teamwork always win. If a team with a bad teamwork, there's no winning inside, for the example 4 from 5 people have a great teamwork, but 1 on them has a very bad teamwork, even 4 of them have a great teamwork, this 1 can destroy their own team...
Even in this blog, we have a teamwork,
teamwork
between the advertiser and publisher, teamwork between a blogger and a reader, teamwork between blogger and blogger. Without a teamwork, we will not get a high pagerank or a high number of visitor, Am I right? :)
Because we are a social people who needs other people to achieve our goal, so let's find new people, make more friend, doing good, help other, and make a great teamwork in this world. What do you think if this world have a great
teamwork
and everybody is share each other, I think a 'CRIMINAL' word will not exist in the dictionary :)
Thank you for reading, hope this is useful for you
GBU
love and regards
Teddy