Hey there sorry for the late post, I'm being busy in my past week... so today I'll post my award here :)
Thanks to my friends for giving me this awards
Ferdinand
Mommyyus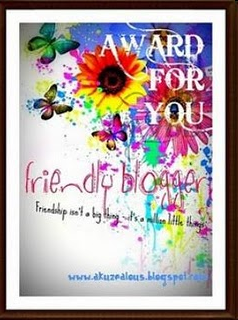 and
intan
before that , I must finish my tag first :)
1. Do you like to paint?
- Yep, I like it, but I don't have a skill to paint, because if I paint a cow, I got a horse :p
2. What are you doing when you are getting bored?
- The important thing I will not hanging on the three :D
3. Why the snail walk slowly?
- It's the waste of time to analyze the snail walking Lol
4. How old is your blog?
- hmmm...My blog is a new baby born :D
5. From when you know about blogging ?
- Hmmm...very long time , but I just starting this year
6. Why did you interest in blogging?
- Because I want to share to everybody how fun is life, and how challenging is this life, and if I can, I want to motivate and inspire all of my friend and looking for friends
7. What is the plus minus from your blog
- Hmmm... don't know too... maybe you can give me a critic or suggestion please :)
8. I would like to give back this award to 5 of my blogger friends :)
- they are :
1.
Yanconx
2.
Muzzy
3.
imoel
4.
intan
5.
Dittow
hehe done...i'm sorry if I don't follow the rule , because I'm not quite understand :p